Living Healthy
Healthy Skin Month – and How to Make It Last All Year
December 01, 2020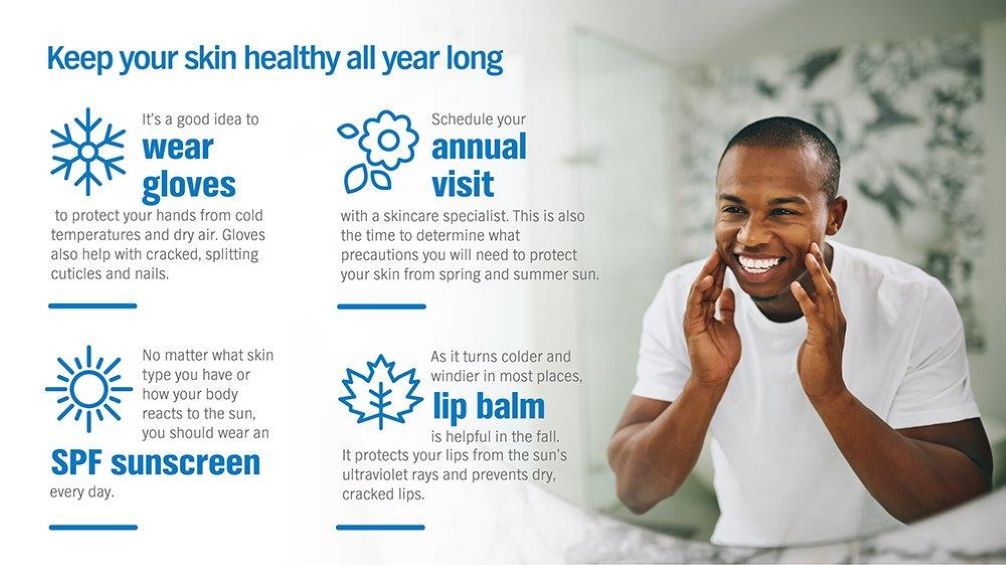 November is National Healthy Skin Month. The sunny summer months may be behind us, but your body's largest organ requires attention all year long.
Protecting your skin is not only about physical appearance. Healthy skin also supports your overall health. Your skin supports your immune system, regulates body temperature, and produces Vitamin D.
Annual dermatologist visits
Your primary care doctor can be an important resource for skin health. But they are not a replacement for a board-certified dermatologist. The Skin Cancer Foundation recommends a yearly full-body skin exam with your dermatologist.
Common reasons to see a dermatologist include skin lesions, acne, rashes, and discoloration. Dermatologists also provide services like skin examination, biopsies, and mole removal.
Skin care tips
Beyond medical care, there are simple steps you can take to protect your skin this month and beyond. The American Academy of Dermatology has assembled a list of tips, including:
Washing your face every day;
Using antiperspirant rather than deodorant;
Choosing skin care products tailored to your skin type (oily, dry, sensitive, etc.);
Examining your skin regularly for signs of skin cancer;
Protecting your skin from the sun;
Using petroleum jelly to treat minor injuries;
Protecting your feet from blisters;
And moisturizing daily.
Skin care for every season
Keep your skin healthy all year long by adjusting your skin care routine to the changing seasons. Here are some tips:
Winter: It is a good idea to wear gloves to protect your hands from cold temperatures and dry air. Gloves also help with cracked, splitting cuticles and nails.
Spring: Schedule your annual visit with a skincare specialist. This is also the time to determine what precautions you will need to protect your skin from spring and summer sun. You can check the expiration dates on your sunscreen or other skin products and restock as needed.
Summer: No matter what skin type you have or how your body reacts to the sun, you should wear an SPF sunscreen every day.
Fall: As it turns colder and windier in most places, lip balm is helpful in the fall. It protects your lips from the sun's ultraviolet rays and prevents dry, cracked lips.
By seeing a dermatologist and following these simple steps, you can protect your skin and boost your health.