Health Insurance Basics
Anthem HealthSync Connecticut
June 13, 2019
Plans that support access to affordable, quality care that is easy to navigate
Our enhanced tiered portfolio of health plan options, renamed HealthSync, gives you the same great access to our in-network doctors and hospitals as our other plans. And, you'll get the same preventive care benefits too. But now you can save on your out-of-pocket costs for both primary and specialist care* when you choose a Value Tier 1 doctor in our network.
Plus, many Anthem Value Tier 1 provider organizations now offer additional support services to Anthem HealthSync members – like sick visits within one business day of your call and help scheduling specialist care -- that help make care easier to navigate and more convenient to access.
Tiered to save you money
The benefits under these plans are tiered. That means that the out-of-pocket costs for the care members get from in-network doctors or hospitals, and the level of support these providers offer their patients who are Anthem members, will be different depending on whether the doctor or hospital is in Value Tier 1 or Participating Tier 2.
Value Tier 1 saves you the most
When you choose to get care from a Value Tier 1 doctor or hospital, you will pay a lower out-of-pocket cost share and, in many cases, will benefit from services and support that can make access to care more convenient such as expedited primary care physician (PCP) appointments for urgent care, telehealth capabilities, help scheduling specialist visits, and the support of a patient navigator when needed.
Participating Tier 2 care is available at a slightly higher cost
When members see a doctor in this tier or get care at a Tier 2 hospital, they'll get quality care — and they'll still be eligible for in-network benefits — they'll just pay a little more.
Out of network gives you additional access
Members have the option to choose out-of-network providers if their plan offers that coverage, but they'll also pay the most out of pocket. As with all Anthem HMO plans, HMO plans under the HealthSync portfolio do not offer out-of-network coverage.
Care that's easier to navigate
Getting access to the care you need can sometimes be complicated. That's why many Value Tier 1 provider organizations and hospitals offer these support services to Anthem HealthSync members:
Support from a Patient Navigator to assist you with:

securing your annual wellness visit (i.e. routine physical)
scheduling a "sick visit" with a PC within one business day of your request
scheduling visits with specialty providers

Access to telehealth visits for minor and/or routine covered services
Specialty EConsult access for patients through a PCP
Welcome package and patient outreach
These Value Tier 1 provider organizations offer enhanced access to care and care support features to Anthem HealthSync members.
To find out if your doctor is affiliated with one of these provider organizations call your doctor's office.
Prospect Medical Holdings
https://www.prospectmedical.com/physicians-directory
Saint Francis Healthcare Partners and Valley Health Alliance
https://www.sfhcp.org/provider-directory/ 860.714.5606

http://www.stmh.org/vha (203) 709-6748
UCONN Health
https://health.uconn.edu/find-a-provider/search 1-84-GET-UCONN
Value Care Alliance, including Western Connecticut Medical Group, Griffin Faculty Physicians and St. Vincent's Multispecialty Group
Day Kimball Healthcare
https://www.daykimball.org/locations/day-kimball-medical-group-offices/ (860) 928-6541
ProHealth Physicians
https://www.prohealthmd.com/ 855-CTMD-411
Community Medical Group
https://www.communitymedgroup.org/find-a-doctor/
Finding your HealthSync Tier 1 PCP or Specialist
Use Anthem's Find Care tool on our mobile app, Sydney Health, or on anthem.com to search in-network doctors and the tier they are assigned to. In-network doctors in Value Tier 1 and Participating Tier 2 will have a reference below their names on the search results page which identifies the assigned tier.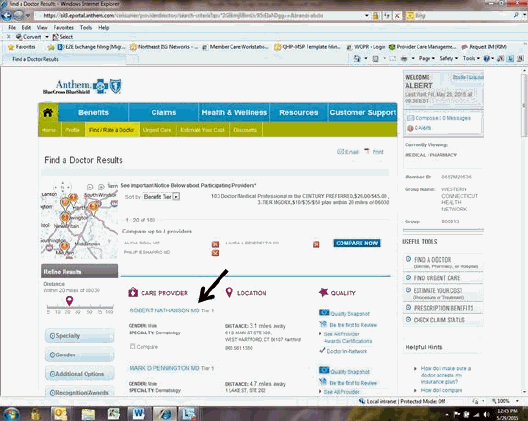 Choose from hospitals across the state
Here is a map of the Connecticut hospitals and their assigned tiers under HealthSync.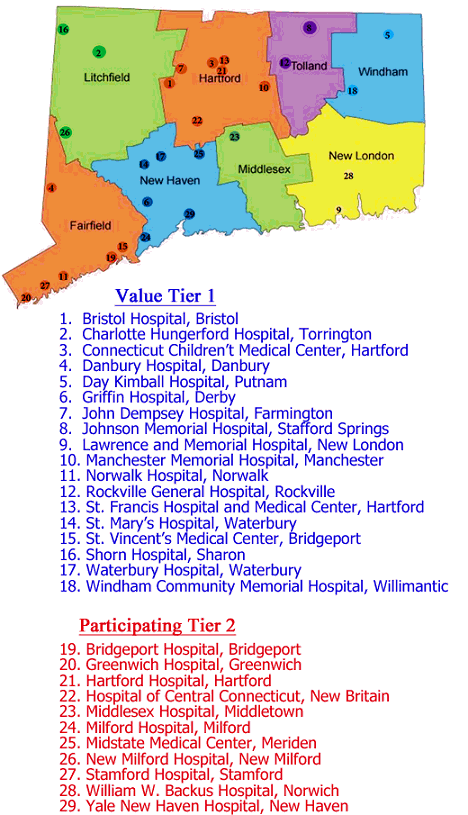 Remember - you get to choose from our large network of doctors and hospitals, but will save the most out-of-pocket when you select a Value Tier 1 doctor or hospital. For a full list of participating hospitals, please visit the Find Care tool on anthem.com. You may also call Customer Service using the number on the back of your ID card for assistance in selecting a doctor or hospital.
Still have questions about HealthSync?
Take a look at our HealthSync member overview and FAQs
Other great member resources
To learn more about our web and mobile tools for members, go here. Need help signing up? Call us at 1-866-755-2680.
Use our online Find Care tool to look for doctors, hospitals, labs and other health care providers in your Anthem Blue Cross and Blue Shield plan. Need help?
Anthem members registered online can use our Find Care to find out costs and compare facilities and doctors based on cost and quality ratings for procedures — before you get them.
*Specialist categories tiered under HealthSync include Allergy/Immunology, Cardiology, Endocrinology, Gastroenterology, Nephrology, Obstetrics and Gynecology (OB/Gyn), Ophthalmology, Orthopedic Surgery, Otolaryngology (ENT), Pulmonology, Rheumatology, Urology. All other specialist care is not tiered under this program.