You can buy a Blue View Vision plan by itself or add it to any of Anthem's health insurance plans or dental insurance plans in Colorado. You'll be covered for check-ups and eye exams, and you'll get allowances for the glasses or contacts you rely on. With Anthem, your vision insurance is always there when you need it.
Over 65 or Medicare-eligible and looking for vision coverage? Check out
our Medicare Plans
page.
Why add Blue View Vision insurance?
With Blue View Vision, you'll have all the help you need to manage the health of your eyes. Your vision insurance plan will cover check-ups, so you can keep your prescription up-to-date. We also offer allowances for your frames, lenses, or contact lenses, and discounts on some of your favorite places to shop.

Eye Exams
Eye exams every 12 months with a $20 copay.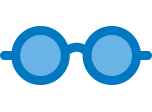 New Frames
New frames every 24 months with $130 allowance.

Standard Lenses
Standard lenses every 24 months — single, bifocal, and trifocal with a $20 copay.

Contact Lenses
Contact lenses every 24 months — conventional and disposable options with an $80 allowance.
Benefits of Blue View Vision
We make healthy vision fun with great benefits and accessories. Let your eyewear enhance your style with discounts on sunglasses. Get healthy vision benefits, too, like free polycarbonate and Transitions lenses for children under 19.
No cost factory scratch coating.
No cost UV-blocking Transitions® lenses and impact-resistant polycarbonate lenses for covered dependents under age 19.
Discounts on high-quality progressive lenses and anti-reflective coatings.
...and more
40% OFF
Extra pairs of glasses, anytime from any place in our network.
20% OFF
Other upgrades, accessories and nonprescription sunglasses.
Buy glasses & contacts right where you shop
You can call or click online at 1-800 CONTACTS, glasses.com and contactsdirect.com, or visit a private practice eye doctor, or go in-store to LensCrafters®, Target Optical®, and most Pearle Vision® locations. With over 38,000 eye doctors at more than 27,000 locations you're sure to find an eye care professional that's close to work or home.