Dual Eligible Special Needs Plans (D-SNPs) With Anthem
Medicare Advantage D-SNP plans are for people eligible for both Medicare and Medicaid. They offer coordinated care and extra coverage not available with Original Medicare.
Extra Care, Resources, And Support  
Do you have both Medicare and Medicaid? If so, you might qualify for a Dual Eligible Special Needs Plan (D-SNP). These plans offer extra coverage you won't receive with Original Medicare, like dental, vision, and prescription drug benefits, and coverage for over-the-counter health items.  
Am I Eligible For A D-SNP? 
You're eligible for a D-SNP if you receive both Medicare and Medicaid benefits. You can learn more about Medicare and Medicaid if you're not sure which program you qualify for.
If you qualify for both programs and we offer a D-SNP where you live, it could be worth exploring the extra coverage.
Benefits In Dual Eligible Medicare Plans 

Our D-SNPs give you dental, vision, hearing, and prescription drug coverage. Make sure to check your area for specific coverage, as it can vary from state to state.
Preventive care
Routine physicals and health screenings 
Dental, vision and hearing
Routine teeth cleaning, eye exams and health screenings
Transportation
Rides to health-related appointments
24/7 NurseLine
24-hour health support from a registered nurse
Personal emergency response system (PERS)
Contact a caregiver or emergency services at the touch of a button
Over-the-counter (OTC) benefit
Coverage for OTC health products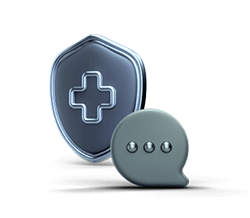 Attend a Free Medicare Event
Sign up for a free Medicare event to learn how Anthem Medicare plans help cover costs that Original Medicare doesn't. You can attend a virtual Medicare webinar. Or, if you prefer, come to a live seminar in your area where a Medicare licensed agent will be present to answer your questions.
Find An Event
Anthem Blue Cross and Blue Shield is a Medicare Advantage plan with a Medicare contract. Anthem Blue Cross and Blue Shield is a D-SNP plan with a Medicare contract and a contract with the state Medicaid program. Enrollment in Anthem Blue Cross and Blue Shield depends on contract renewal.