Medicare Supplement Insurance Plans In Maine With Anthem
Medicare Supplement insurance plans, also called Medigap, help pay for deductibles and coinsurance that Original Medicare‡ doesn't cover.
Your Medicare Supplement Options
You can enroll in a Medicare Supplement plan if you already have Original Medicare‡ Part A and Part B and you live in Maine. Your open enrollment period lasts for six months starting with the month you turn 65. During this Medicare Supplement open enrollment period, you cannot be denied a policy based on past or current health conditions.
With Medicare Supplement coverage, you can use any doctor or hospital that accepts Medicare patients. Anthem offers Medicare Supplement plans, all of which cover 100% of Part A and Part B coinsurance. All of our plans also include SilverSneakers® fitness memberships, and some have SpecialOffers, like discounts on vitamins and weight loss programs.
Medicare Supplement Plans are also available to persons eligible for Medicare because of disability.
| Benefits | Plan A | Plan F | Plan G | Plan N |
| --- | --- | --- | --- | --- |
| Part A coinsurance and hospital costs | | | | |
| Part B coinsurance or copay | | | | |
| | | | | |
| Part A hospice care coinsurance or copay | | | | |
| Skilled nursing facility care coinsurance | | | | |
| | | | | |
| | | | | |
| | | | | |
| | | | | |
*Plan N pays 100% of the Part B coinsurance, except for a copayment of up to $20 for some office visits and up to a $50 copayment for ER visits that doesn't result in an inpatient admission.
Anthem Offers Medicare Supplement Plans A, F, G, And N
Medicare Supplement Plan A
Plan A is the most basic of Medigap plans, with the lowest premiums. It is the only Medicare Supplement insurance plan that doesn't cover the Part A deductible.
Medicare Supplement Plan F
Plan F helps cover Medicare deductibles and some copayments and coinsurance. Per government regulation, Plan F is only available if you first became eligible for Medicare before January 1, 2020.
Medicare Supplement Plan G
Plan G helps cover all out-of-pocket costs not covered by Original Medicare‡ for Medicare approved services, except for the Medicare Part B deductible.
Medicare Supplement Plan N
Plan N helps pay for Medicare Part A and Part B coinsurance costs. You'll be responsible for deductibles and copayments, but you'll have lower monthly premiums.
Prescription Drug Coverage
Medicare Supplement plans do not include prescription drug coverage, but you can purchase a Part D plan for an additional premium to help cover medication costs.
Medicare Supplement Or Medicare Advantage?
You can have a Medicare Supplement plan or a Medicare Advantage (Part C) plan but not both.
Here are some key differences to help you choose.
Medicare Supplement Plans
Offer the option to purchase a Part D prescription drug plan.
Allow you to keep the same coverage once you've enrolled in a plan, with no need to renew (as long as you pay your premium).
Allow you to see any doctor or hospital that accepts Medicare patients.
Move with you, if you relocate.
Medicare Advantage Plans
Include dental, vision, and/or hearing coverage, and most also cover prescription drugs.
Can change and do not offer guaranteed lifetime coverage once you've enrolled.
Can be a PPO or HMO.
Can have a $0 or low premium.
Can only move with you if the plan is available in your area.
Find Options Available In Your State
If your state isn't listed, visit www.bcbs.com for other coverage options.
Learn More About Medicare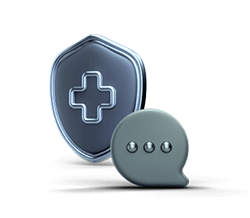 Attend A Free Medicare Event
Sign up for a free Medicare event to learn how Anthem Medicare plans help cover costs that Original Medicare‡ doesn't. You can attend a virtual Medicare webinar. Or, if you prefer, come to a live seminar in your area where a Medicare licensed agent will be present to answer your questions.
Find An Event
‡Original Medicare: Part A (Hospital Insurance) and Part B (Medical Insurance).
For Medicare Supplement only: Not connected with or endorsed by the U.S. government or the federal Medicare program.