Medicare Advantage HMO Plans With Anthem
Anthem's Medicare Advantage HMO plans help you save money with no or low plan premiums.
Anthem MediBlue HMO Plans
Medicare Advantage plans offer all-in-one coverage that include Medicare Parts A, B and usually D (prescription coverage). Most MediBlue plans cover services not included under Original Medicare, like dental, vision, and hearing coverage.
When looking at Anthem MediBlue plans, you have the option to choose a Medicare preferred provider organization (PPO) or Medicare health maintenance organization (HMO) plan. Learn more about Medicare Advantage Plans with Anthem, including the difference between HMO and PPO plans.
Who Can Enroll In A Medicare Advantage HMO Plan?
Anyone eligible for Medicare can choose a Medicare Advantage HMO plan. People with a chronic condition or who have both Medicare and Medicaid may enroll in a Medicare Advantage Special Needs Plan (SNP).
Is A Medicare HMO Right For You?
With a MediBlue HMO, you choose a primary care provider (or PCP) in the plan's network. Your PCP will provide your regular care and routine screenings. They also direct you to the right specialists when you need them.
Working with a regular doctor who understands your health history, medications, and unique healthcare needs has its advantages. Your PCP can recommend the healthcare expert or facility that will best meet your needs.

MediBlue HMO Benefits
An Anthem MediBlue HMO offers a strong network of doctors and hospitals you can trust for quality care.
Here are some of the other benefits of our Medicare Advantage plans:
Anthem plan premiums as low as $0
You will still have to pay your Medicare Part B premium.
Copays as low as $0
Low, fixed copays for doctor visits and outpatient lab tests.
Deductibles
Anthem MediBlue HMO plans generally have $0 deductibles for medical costs.
Dental, vision & hearing
Benefits are built right into your plan, and you may be able to buy additional coverage.
24/7 telehealth visits
Connect with providers by computer, tablet or smartphone in the convenience of your home.
Plan benefits vary depending on where you live.
Learn More About Medicare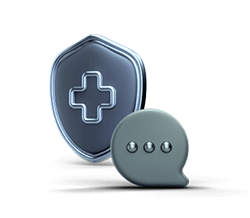 Attend a Free Medicare Event
Sign up for a free Medicare event to learn how Anthem Medicare plans help cover costs that Original Medicare doesn't. You can attend a virtual Medicare webinar. Or, if you prefer, come to a live seminar in your area where a Medicare licensed agent will be present to answer your questions.
Find An Event
Anthem Blue Cross and Blue Shield is a Medicare Advantage plan with a Medicare contract. Anthem Blue Cross and Blue Shield is a D-SNP plan with a Medicare contract and a contract with the state Medicaid program. Enrollment in Anthem Blue Cross and Blue Shield depends on contract renewal.