Medicare Advantage PPO Plans In California With Anthem
Explore the benefits of a Medicare Advantage plan with the doctor choice of a PPO.
Anthem MediBlue PPO Plans
Medicare Advantage plans offer all-in-one coverage that include Medicare Parts A, B and usually D (prescription coverage). Most MediBlue plans cover services not included under Original Medicare, like dental, vision, and hearing coverage.
When looking at Anthem MediBlue plans, you have the option to choose a Medicare preferred provider organization (PPO) or Medicare health maintenance organization (HMO) plan. Learn more about Medicare Advantage Plans with Anthem, including the difference between HMO and PPO plans
Who Can Enroll In A Medicare Advantage PPO Plan?
Anyone eligible for Medicare can choose a Medicare Advantage PPO plan. People with a chronic condition or who have both Medicare and Medicaid may enroll in a Medicare Advantage Special Needs Plan (SNP).
Is A Medicare PPO Right For You?
With a MediBlue PPO, you may want to choose a primary care physician (PCP) for checkups; however, it is not required. You don't need a referral if you need to see a specialist or want to see another doctor. Using a doctor and healthcare facility in your plan's network will almost always save you money.
You can see doctors or use facilities that are out of network, as long as they are participating with Original Medicare. If you use an out-of-network provider, your costs may be more.

MediBlue PPO Benefits
With an Anthem MediBlue PPO, you will have a strong network of doctors and hospitals you can trust for quality care.
Here are some of the other benefits of our Medicare Advantage plans:
Anthem plan premiums as low as $0
You will still have to pay your Medicare Part B premium.
Copays as low as $0
Low, fixed copays for doctor visits and outpatient lab tests.
Deductibles
Most plans have $0 deductibles for in-network medical costs. Your deductible for out-of-network care may be higher.
Dental, vision & hearing
Benefits are built right into your plan, and you may be able to buy additional dental and vision coverage.
24/7 telehealth visits
Connect with providers by computer, tablet or smartphone in the convenience of your home.
Plan benefits vary depending on where you live.
Learn More About Medicare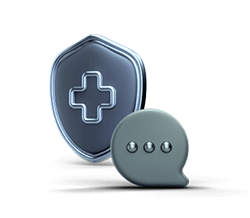 Attend a Free Medicare Event
Sign up for a free Medicare event to learn how Anthem Medicare plans help cover costs that Original Medicare‡ doesn't. You can attend a virtual Medicare webinar. Or, if you prefer, come to a live seminar in your area where a Medicare licensed agent will be present to answer your questions.
Find An Event
Anthem Blue Cross is an HMO & LPPO plan with a Medicare contract. For Dual-Eligible Special Needs Plans: Anthem Blue Cross is an HMO SNP plan with a Medicare contract and a contract with the California Medicaid program. Anthem Blue Cross Life and Health Insurance Company is an LPPO plan with a Medicare contract. Enrollment in Anthem Blue Cross depends on contract renewal.